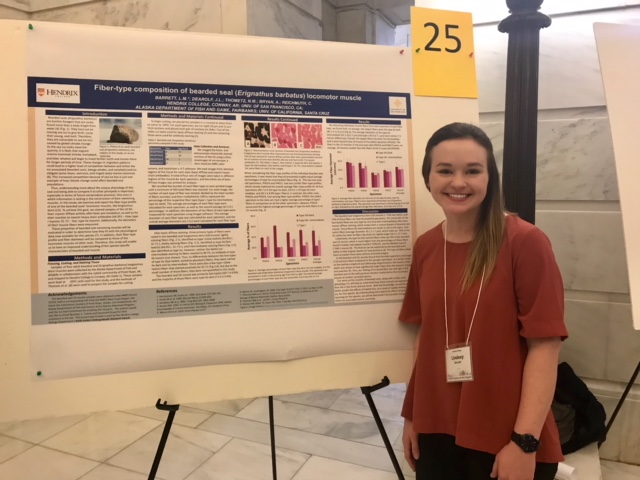 Lindsey Barrett joined the Dearolf lab as a volunteer in the summer of 2017. During the summer, she studied the longissimus dorsi, the main locomotor muscle in bearded seals (Erignathus barbatus). She characterized the fiber-type profile of this muscle by staining it for its myosin ATPase activity and its reaction to certain myosin heavy chain antibodies. She continued this work into the fall semester by doing an independent study (BIOL 399), and she presented the results of her study at the 2018 Society for Integrative and Comparative Biology (SICB) meeting in San Francisco, CA.

This summer, supported by a Hendrix College Odyssey grant, she processed more bearded seal muscle samples and helped to train Elijah Ballard. Working together, they have been able to add more animals to the data set, and Lindsey presented a talk about her project at the 2019 Southeast and Mid-Atlantic Marine Mammal Symposium (SEAMAMMS), which was held in Washington D.C.

Lindsey's study (and Elijah's study below) would not have been possible without our collaborators: Dr. Nicole Thometz in San Francisco, Anna Bryan and Lori Quakenbush at the Alaska Department of Fish and Game, and Dr. Colleen Reichmuth at the University of California, Santa Cruz, as well as the subsistence hunters of Point Hope, AK.