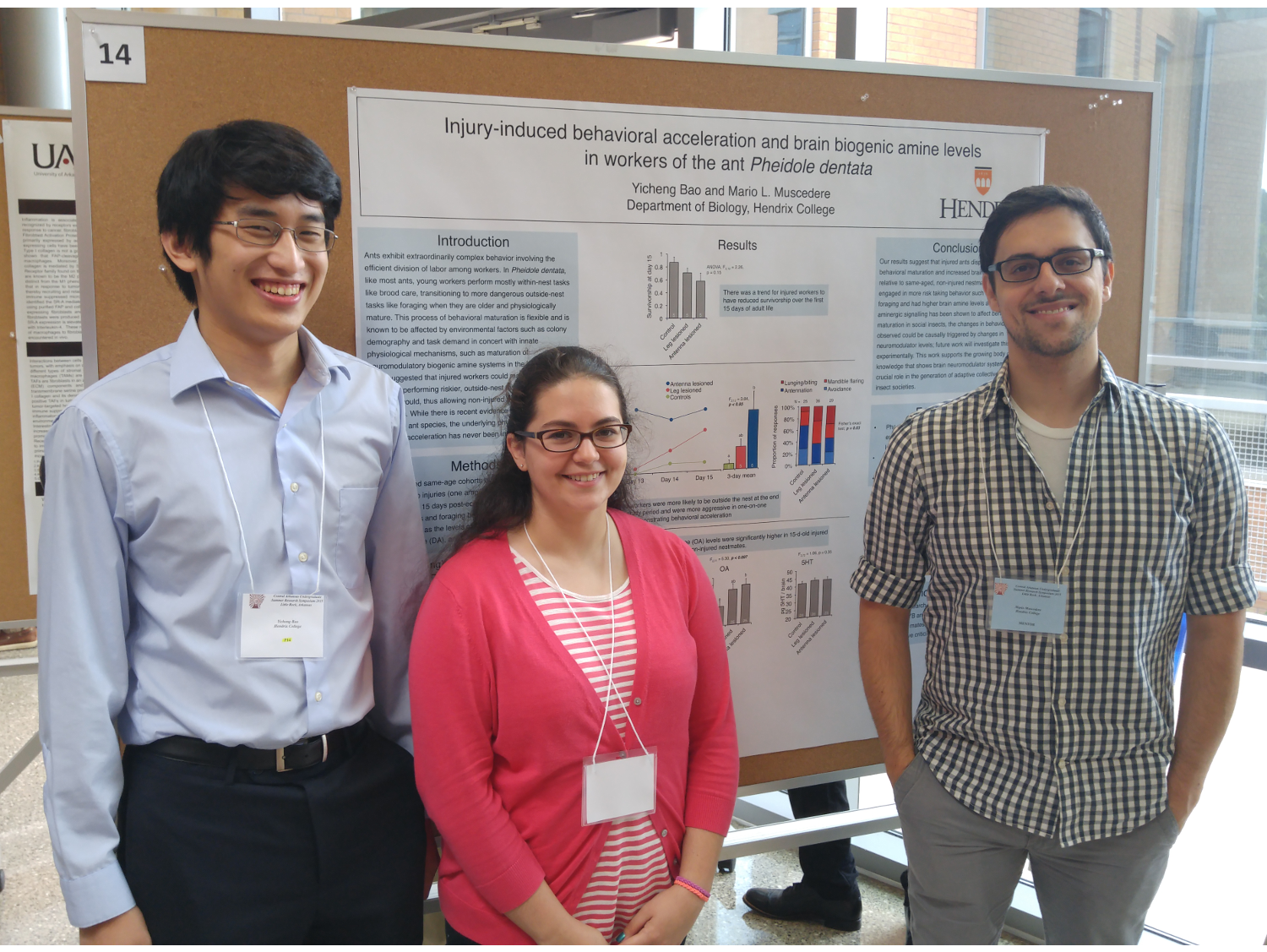 Student - Sarah Eddington

Faculty Mentor - Dr. Mario Muscedere

Project Title - Effects of Body Size and Brain Neuromodulators on Olfactory Learning in Carpenter Ants (Camponotus americanus)
This summer I did research in Dr. Muscedere's lab, where we study social complexity and division of labor in ants. I worked on a project designed to determine how body size variation and differences in brain neuromodulator levels affect learning ability in workers of the carpenter ant Camponotus americanus, possibly contributing to division of labor. Insects have long been used to study learning because their nervous systems are relatively simple yet they learn via many of the same conserved mechanisms as vertebrates. One example of this similarity is the biogenic amine neuromodulators (including dopamine, serotonin, and octopamine), which have important behavioral effects in vertebrates and invertebrates and are implicated in learning across taxa. We predicted that workers that were more likely to work outside the nest and thus encounter environmental odors associated with food would exhibit faster learning and more durable memory retention, and that this would be associated with higher brain biogenic amine levels. I performed behavioral observations to assess worker foraging behavior, experimentally measured learning ability in workers of different sizes, and used HPLC to determine neuromodulator levels in the brains of these workers. To assess learning, I used a classical conditioning assay in which a sucrose reward that would naturally elicit extension of the inner mouthparts was paired with an olfactory stimulus, and learning was assessed by the ability of the odor to later elicit extension in the absence of sucrose.

We hypothesized that larger ants would have better learning abilities because they are found outside the nest more often and were thought to do most of the foraging. However, while we did find that large workers were over-represented outside the nest, they were found much closer to the nest entrance on average, and we now believe that they perform mostly nest defense tasks, with smaller workers being more active foragers. In fact, smaller workers had better learning abilities and, after correcting for brain size differences, significantly higher levels of DA, OA, and 5HT in their brains than larger workers. I plan on continuing my work throughout the school year. Our upcoming research plans include (1) behavioral assays to directly test the foraging ability and motivation of workers of different sizes, and (2) experimental manipulations of brain neuromodulator levels to directly test whether higher aminergic activity improves learning performance.